Winter presents a challenge for calf rearers. The cold conditions pose a threat to young livestock. Are your welfare processes ready for wintering calves?
In this article, we share our top tips for wintering calves. These are some of the methods deployed across our 16 professional rearing units.
During the winter months calves may require extra energy and nutrients to cope with fluctuating weather and maintain growth with a strong immune system. For baby calves, ensure that milk temperatures remain consistent and powder concentration can be increased in extreme circumstances (as opposed to volume!). Keep a close eye on calves at weaning, with plenty of ad-lib straw available to prevent help overloading on concentrates.
During the winter, it is vital that every pen on farm caters to the daily needs of the calves being reared! Penning strategy and stocking density are the first port of call for this. When purchasing, consider penning by: source herd, date of movement on farm and weight to create groups of calves which will settle quickly and have fair access to feed and water with air being replaced completely 4-6 times per hour. Perfecting penning will stimulate daily live-weight gain and assist in creating a stable environment for healthy calves.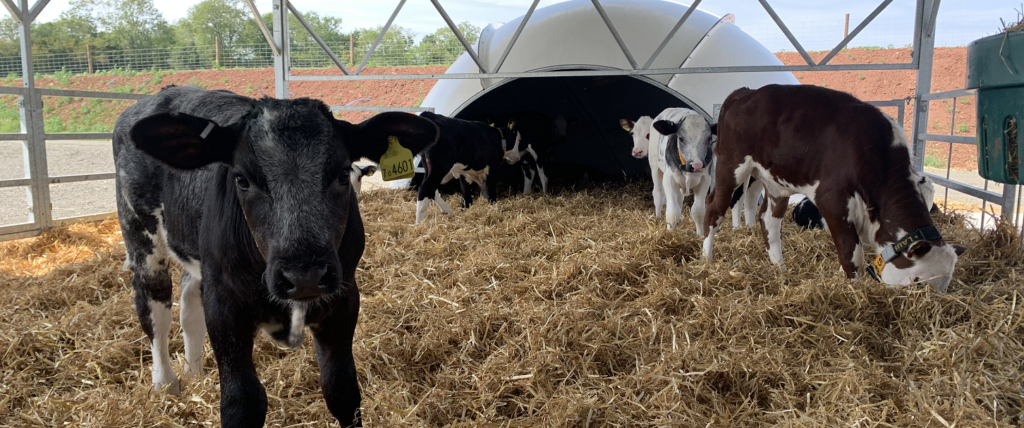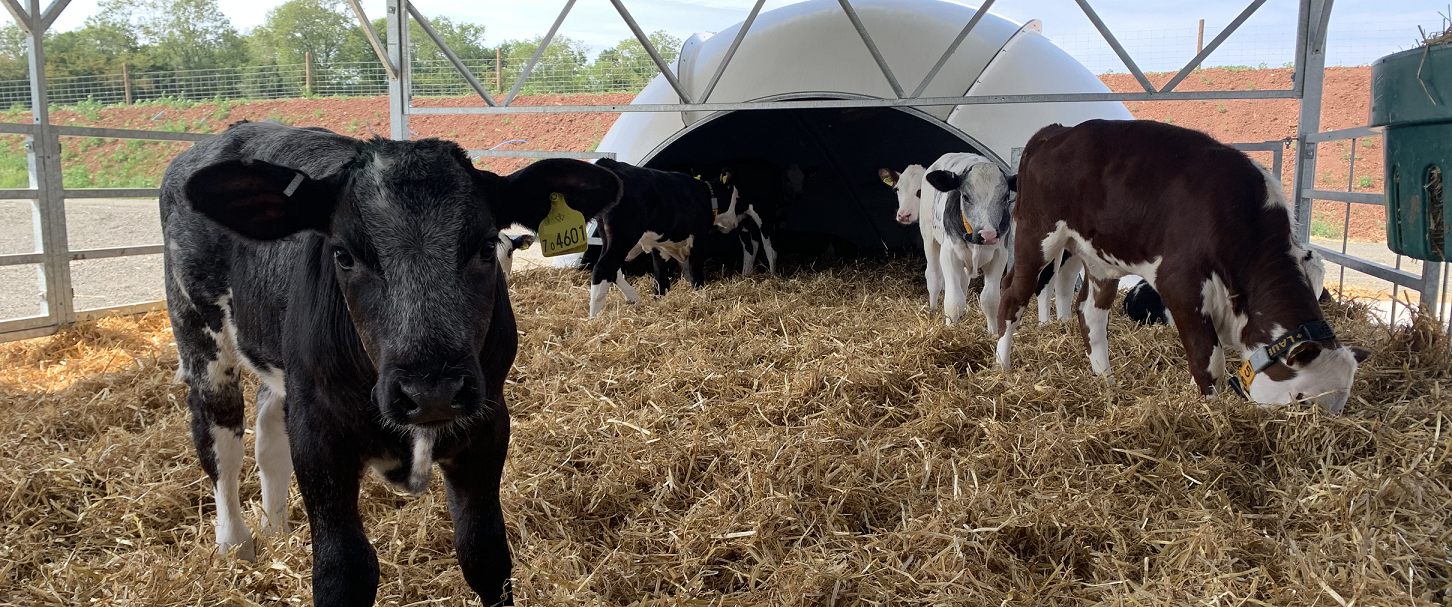 Dirty environments can act as the perfect host for pathogens to challenge calves in the winter. Eyes… naval health… respiratory problems… "If it is warm and wet, you might regret!"
Wet weather may prompt discussions about drainage within calf housing where deep straw should allow for nesting during the day. This should be dry and moisture from the previous bed cannot soak through. A simple slope away from the main bed may reveal just how much liquid a pen of calves can produce in a day! 
Looking at the location or design of water troughs may help prevent extreme poaching and mucking out more regularly, especially between batches, will yield results and reduce bedding usage.
Whilst it is important that calves have access to fresh, clean air – it is important that all stock has the option to escape direct draughts and avoid chills. At ground level, big bales of straw around the perimeter of a pen or halfway across where exposed at one side allows for calves to maintain warmth.
Ideally there should be a solid wall around the pen well above head height & if adapting housing, a windbreak sheeting can easily be installed to minimise draughts on windy nights, especially in the prevailing direction.
Calf jackets continue to be a useful aid when maintaining a consistent temperature for calves and when used correctly can aid growth, however they are no replacement for good infrastructure and sweating can pose a risk.
If crowding is observed within a small area of housing, this may be a good prompt for a conversation about the environment. Smart calf housing (such as igloos) are becoming a popular solution with our professional calf rearers.
Tip 5: Weights & Measures
Metabolism is key to maintaining body heat and, as such, it is essential that the milk and dry feed a calf receives promotes growth and health. There is no 'one ration fits all' approach for rearing and as such do not be hesitant to approach nutritionists for guidance and advice if you think your calves are not reaching their full potential.
Regular weighing, keeping an eye out for loose droppings alongside timing transitions to avoid clashes with stressful events (such as disbudding) will assist when making decisions about milk & dry feed formulation… Quality before Quantity and always read the label!
The Meadow Quality Calf Team.
Are you interested in becoming one of our professional calf rearers? Read more about our reared calves or contact our team for information.
For expert guidance for wintering calves, contact your fieldsman.
Click here to subscribe to our mailing list to receive useful information about maximising the health and value of your livestock.