As lockdown finally began to ease in the UK, Meadow Quality's Marketing Coordinator, Andy, visited one of our professional calf rearing units in Herefordshire, to meet with Imi Manning – manager of the calf rearing enterprise at the family farm.
Imi recently graduated from Harper Adams University with 12-months experience gained on a farming placement in New Zealand and a degree in Agriculture. Since returning to the home farm, she has been made a partner in the family business and now oversees the calf rearing enterprise. Previously a broiler and arable farm, the Manning's expanded into calf rearing seven years ago, supported by the expert knowledge of Meadow Quality's Commercial Manager, Simon Fryar. Imi now works closely with Simon to rear high quality calves using a state-of-the-art, welfare-friendly rearing system.
During their chat, Imi told Andy that Simon is great to work with as he efficiently manages the sourcing of baby calves and movement of reared calves on and off the unit ensuring margins are maintained in the enterprise.
Calf rearing:
Since its conception seven years ago, the system has evolved, with tweaks being made to improve efficiency and ensure welfare standards are met. A little over a month ago, Imi oversaw the installation of eight modern Holm & Laue Igloo's and Veranda rearing units. This addition to the farm system provides mobility and therefore flexibility to the Manning's calf unit which allows Imi to increase their optimum capacity.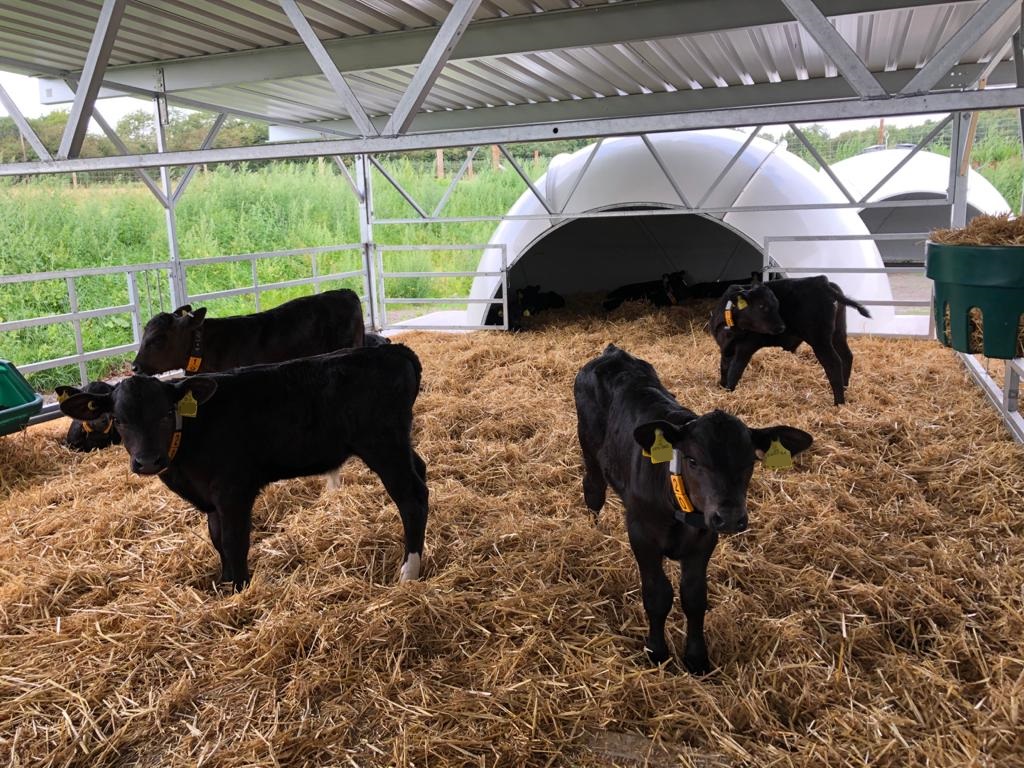 Upon arrival at the farm, the baby calves are settled into these modern units, weighing approximately 60kgs. Imi manages their feed intake using an intelligent computerised feed system. The calves receive a feed formula with 18% protein in these first weeks, to kickstart their immune systems, promoting good health and therefore strong growth. After 6 weeks, Imi will move the calves into a dry weaning unit where they reside for a further 6 weeks until they have grown to approximately 140kgs in weight.
Although Imi has worked with a variety of livestock, she favours working with calves. Her favourite part of the calf rearing process is seeing the calves steadily grow into healthy, happy calves.
In the farming community:
Imi is currently the Chairman for the Ledbury Young Farmers and was recently nominated for the 'Young Farmer of the Year' award in this year's three counties farming awards. Next year, she hopes to become Chairman of competitions at county level.
When asked if she had been inspired by anyone in the farming community, Imi replied that her father was her inspiration and she has learned a great deal from working with him at the family farm.
Meadow Quality work with 16 professional rearing units, producing around 10,000 reared calves per year – learn more here.

To see the unit in action – click here.