Eyes on the market…
Our Team continually monitor the prices across our trading divisions. Stuart Vile, Commercial Manager of the Ruminant Division, comments on the recent increases in cattle prices since the beginning of the year.
"After an unprecedented year which saw Covid-19 impacting every industry, we've seen a steady increase in cattle prices across the board, some increases being as large as 40 pence per kilo (deadweight). In 3 months, we've seen the average prices of organic store cattle under 30 months soar from 400p/kg to 450p/kg, topping at 475p/kg!"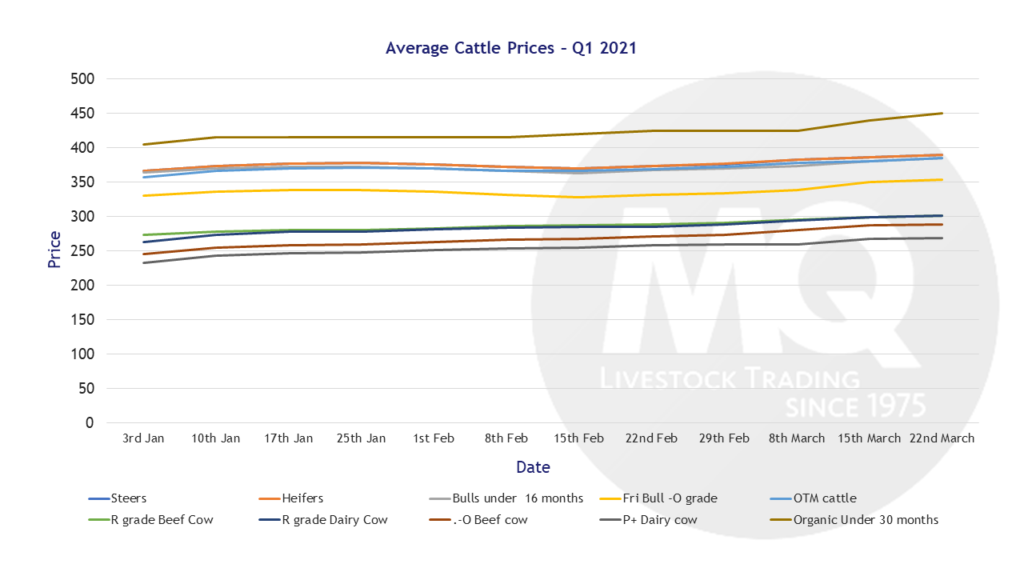 What's driving these high prices?
Stephen Timms, Cattle Marketing Specialist at Meadow Quality reports that "consumption of beef was, at times, as much as 7% higher last year (2020)" which could be attributed to the Government-backed 'Eat Out to Help Out' scheme and an increase in lock-down BBQs during lock-downs. Steve went on to say that "there are fewer cattle on the ground compared to usual standards. That is quite evident with store cattle in such short supply and prices over the top".
So when will the bubble burst…? 
Stuart and his Team see that beef prices are inevitably set to fall after the lockdown-driven boosts in 2020 and the early stages of 2021. There's no telling when the drop may come, but the current prices are causing ripples across the entire supply chain. With the prices at this height, now could be the best time to sell your store cattle.
If you have cattle available for sale, call our Cattle Team – 01789 734100 – or speak to your local Fieldsperson.